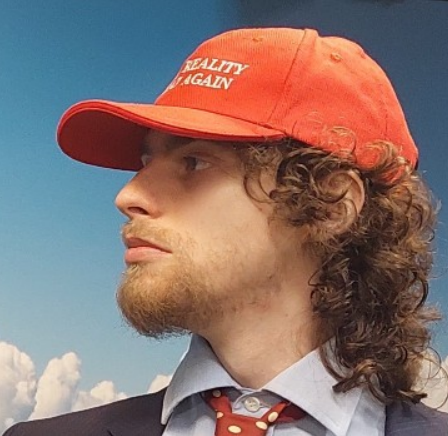 Meaning scientist. Entrepreneur. Polymath. Broadcaster. Game modder. Software developer. Linguist. Social and political commentator.
Free speech crusader. The Man with the MRGA Hat.
The Jordan Peterson Guy. Make Reality Great Again.
home of the

"I have sworn upon the altar of God eternal hostility against every form of tyranny over the mind of man"
—Thomas Jefferson
Professional activities
About my business
I am the founder, owner, and sole employee of a small business bearing my own name, also known as the "Department of Post-Chomskyan Linguistics" and under various other trade names. I founded this company in 2019, and it's registered with the Dutch Chamber of Commerce under No. 74402455.
My company focuses on three main 'pillars' of activity: media; software development; and text and language. All three of these pillars are somewhat related, and some of my projects contain more than one of them. Previously, I was also focused on a fourth pillar, education and science popularization; but this is currently dormant.
I offer both commercial and non-commercial services and products. Read on to find more information about them and about the people contributing to my company.
Media
It took me a while to realize, but in hindsight it's somewhat obvious that the core of my activities has traditionally been, to put it in one word, media. Drawing and writing comic books, writing and composing music, recording and producing music, coming up with ideas and formats for TV shows and writing screenplays, designing logos or house styles, making radio broadcasts, making YouTube videos, making a podcast—these are all things I have done, both alone and with others, to varying degrees of success. I love this work and it involves a variety of skills: designing, drawing, writing, singing, playing music, editing, planning, organizing, and generally knowing what your idea needs to become reality—not to mention coming up with a good idea in the first place! For me, doing this type of work comes naturally, so I have been doing it all my life as a hobby and that way I managed to develop these skills quite a bit. It was only logical, then, to take the next step and make media the core of my business.
Currently, my main "channel" or "vehicle" through which I offer media is Events Related to Potential, about which you can read more under Projects.
For commercial clients, my services in this area are available under the name J.A. Brown Enterprise. Contact me with any requests for video editing, audio editing, voice-overs, voice recordings, or music.
Software development
I have always liked computers, mostly because you can play games on them! In the past, this manifested in the form of ideas and (all unfinished) designs for a few games (see also Projects). Despite this, I never really took up programming until a few years ago (apart from goofing around a bit with HTML), because my other interests took priority. Today, I'm coming up on three years of experience in software.
Outside of my own business, I work parttime for a small Dutch company that makes enterprise resource software in C#. I have experience in both front-end and back-end development, and I found out that I have a natural affinity for databases and SQL, since I basically run database queries in my head. Other languages I have worked with include PHP, Java, Python, and JavaScript, of which Python is my favourite. Although I don't really 'fit' in the software development world, with its constant emphasis on jargon and the latest fads, I have made somewhat of a home for myself in it and I enjoy learning about various technologies.
What I like most about software development is that it gives me a way to translate my ideas into something you can see, hear, and/or interact with. One of my dreams is to eventually be able to develop software for OLD hardware and operating systems, like MS-DOS, or the Nintendo Entertainment System (NES), or the original GameBoy.
Again, for commercial clients, my services in this area are available under the name J.A. Brown Enterprise. Contact me with any requests for web, game, or other application development—as long as it's not enterprise resource software, because I am under a non-compete agreement with my employer (nor am I interested in building such software for other clients).
Text and language
Human language (as opposed to computer languages) has been one of my main interests since I was a child. I have often been told that I have a way with words. What I find most fascinating about language, though, is that we cannot think without language, and therefore language offers a window into the human mind. This is why, when the time came to go into higher education, I chose to study linguistics (see also Academic).
Before, during and after my master's degree, I also put my skills in language to commercial use. I worked for two and a half years as a private tutor for a company that provides Dutch language lessons to expats and for two years as a translator for a translation company. Being a Dutch--English bilingual since childhood, I was able to put my expertise to use in my work.
Currently, my services in this area are available for commercial clients under the name J.A. Brown Enterprise. Contact me with any requests for writing, translation, editing, transcription, subtitling or proofreading.
In addition to J.A. Brown Enterprise, I am rolling out a new business activity titled BULLSHIT REDUCTION SERVICES. It is a service that helps producers of texts to improve their texts by reducing bullshit, and it is analytically underpinned by philosophy. The website, bullshitreduction.jabrownswebsite.com, is currently under construction, but you can already request a free quote.
Meet the cast
Annemieke Duijvesteijn

Communcation Assistant

Role:

Record-keeping and Communication
Design Assistance, Website
Camera
Sidekick and Theme Song Vocals, De Krodkast
Direction and Script Assistance, De vierde van Muurslopers
Managing the Agenda
Administrating the Instagram
J.A. Brown

Founder and Owner

Role:

Maintaining the Website
Writing Text for the Website and Wiki
Idea, Programming, Design, and Organization, Events Related to Potential
Video and Audio Editing
Idea, Development, and Execution,

BULLSHIT REDUCTION SERVICES

Composing Jingles, De Krodkast
Producing De Krodkast
Idea, Screenplay, and Direction, De vierde van Muurslopers
Idea and Development, ScheepshoornBot
Idea, Design, and Development, VeSoNet
Administrating YouTube, Twitter, Twitch, and Discord
Ruben Kleijn

Legal Advisor

Role:

Commercial Support
Legal Support
Arranging Gigs
Meet the support cast
Yasja de Miranda

Role:

Audio Support
Hardware Support and Advice
Merel Duijvesteijn

Role:

Text Support
Deputy Sidekick, De Krodkast
Nico H. Tari

Role:

Recording Assistance
Camera
Direction and Script Assistance, De vierde van Muurslopers
Video Editing Assistance
Page last updated: 4 September 2023.
This page is best viewed in Netscape Navigator 3.0 with a resolution of 1024 x 768 px.